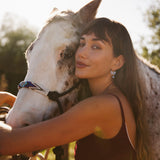 DESCRIPTION

A small batch exclusive collaboration with Alix Camp (@earthtoalix)
Cute and sparkly transparent bow earrings that shimmer in an iridescent spectrum when they catch the light. Each pair is handcrafted by Alix using high quality, lightweight materials! Hand shaped gold fill ear wires will not tarnish or irritate your lovely skin. So much intention and love goes into creating each sacred adornment. Each pair comes with a pink velvet shell earring case perfect for gifting.
PRODUCT DETAILS
Lightweight Acrylic Iridescent Bow Charms

Pearl beads

Japanese Class Seed Beads

Gold Fill Ear Wires (shaped by hand)

Handcrafted in Ventura, CA

Japanese Glass Seed Beads
MEET ALIX
Alix is a jewelry designer and certified Reiki Master who has been practicing energy healing for eight years. Since a young age she's loved to nurture other humans and make things with her hands. We have been long time fans of her offerings and adornments and are excited to offer a rat boi exclusive collaboration designed and handmade by Alix in her Ventura based studio, Soft Landing Space.
FIT
One Size Fits all